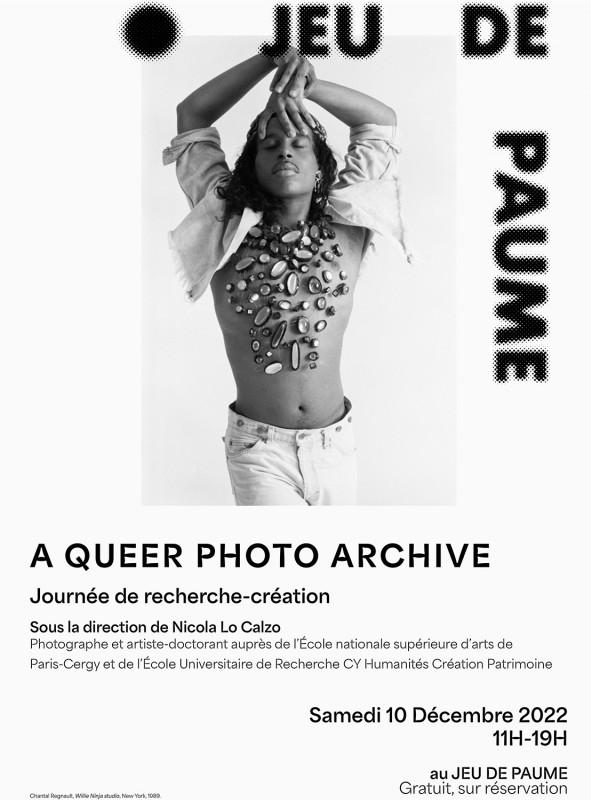 Symposium
A QUEER PHOTO ARCHIVE
Photography and Queer. How to hold together these two conceptual mastodons, often associated with specific genealogies but in fact linked and united by multiple alliances? This day of research-creation tries to answer this question, through the works of contemporary visual artists whose main medium is photography.

A QUEER PHOTO ARCHIVE Symposium - JEU DE PAUME
Under the directions of Nicola Lo Calzo
10th December 2022 - 11am-7pm

Guest Artists:
Josué Azor - Haïti
Brandon Gercara - La Réunion
Sunil Gupta - Inde-Canada
SMITH - France
Chantal Regnault - France-Usa
Joëlle Sambi - Bélgique-Congo
Regis Samba-Kounzi - France-Congo-Angola

All my thanks to :

Jeu de Paume
Quentin Bajac, director
Marta Ponsa, Head of artistic projects and cultural action.Responsable des projets artistiques et de l'action culturelle
Santiago Essses, Technical director and all the team.

Ecole Nationale supérieure d'Arts de Paris-Cergy and École Universitaire de Recherche CY Humanités Création Patrimoine
Martina Olivero, the head of research and doctoral program
Corinnes Diserens, the director of Ecole Nationale supérieure d'Arts de Paris-Cergy.

A big thanks to all the artist, the art historian Anaïs Feyeux for her modereting, Willy Ouattara and Marco dell'Omodarme for their advices.